If you're an Amazon seller who wants to build a strong business with a loyal audience then Amazon product inserts are a must.
As part of a brand building strategy they can play an important role in growing sales both on and off Amazon through generating reviews, providing great customer service, and initiating conversations with your target market.
In this article we'll cover a complete guide on what you should and shouldn't be including in your product insert strategy.
So if you're ready to build out a great strategy for your Amazon product inserts, let's get into it.
Master eCommerce with our 99-point Brand Growth Checklist
BBU is reader-supported. If you buy through links on our site, we may earn a commission.
Learn more
.
What is an Amazon product insert?
A product insert is a small card or leaflet that is placed inside product packaging to communicate a message with the customer when they open their item.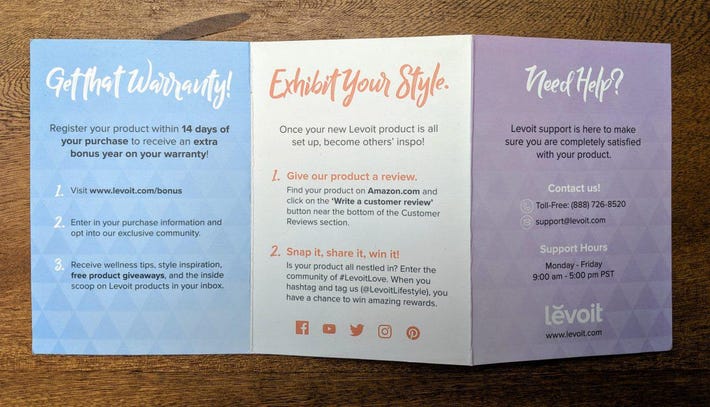 Product inserts can range from a very simple business card with minimal onward instructions through to a multi-page brochure featuring promotions, discounts, and next step options. With so many approaches to take and restrictions to be aware of, we'll take a look at some best practices for Amazon product inserts in this article.
What are the benefits of Amazon product inserts?
Believe it or not, product inserts are still a relatively under-utilized strategy for Amazon sellers. This is surprising to us because there are so many potential benefits to using these packaging inserts. Here a just a few of the main benefits.
Gain access to customer data and grow your audience
Every Amazon seller knows that one of the most challenging aspects of selling on Amazon is the lack of customer data made available to you. Amazon continues to add restrictions on what sellers have access to and further reduce their ability to gather data and build an audience.
By using product inserts you can take back control of your audience and begin to gather customer information that helps you grow your off-Amazon marketing efforts, build a real brand, and grow the value of your business.
Generate more reviews
Reviews are the lifeblood of an Amazon business and generating them is a key focus for sellers. Product inserts can help generate more positive reviews (and avoid negative reviews) by providing great customer service. Some sellers also include a direct request for a review on product inserts, but is this the best strategy? We'll cover that in detail shortly.
Make more sales
Studies continually show that the people most likely to buy from you are the ones who already have. In fact, SEMRush claims the probability of repeat purchases from an existing customer is as high as 70%, whereas selling to a new customer is in the 5-20% range.
Free Checklist
Save Time & Avoid Costly Mistakes
Access the exhaustive brand growth checklist so you don't miss a beat with market research, product development, marketing & much more.
Regardless of the exact number, it's clear to see that your best chance of more sales is repeat purchases from existing happy customers, and by including a product insert in your packaging you have the opportunity to present an offer or next step that will help with that process.
Initiate conversations
The emerging generation is more conversational and less transactional. By creating a good packaging insert card strategy you can open the door to conversations with your customers which can be incredibly valuable. These conversations can lead to insight into areas of growth and development of your business you maybe would not have otherwise considered.
Whilst we as sellers can often get our heads in the sand searching for the next transaction, thinking big picture and opening up conversations with our target market will always be a value-adding strategy. An insert card is the best way of doing exactly this, so let's look at how you can get started.
How do I include product inserts in my packaging?
The first question many sellers have when looking to include an insert card for their Amazon store is how exactly do I get this insert card packed into my product? Here are your options.
Pack it yourself
Let's start with an obvious one. If you're just getting started with a small number of units you could have them shipped to your home address for you to then pop a product insert in. Of course, this is not particularly scalable and should only be considered when first starting out to save costs.
Employ the services of a 3PL or prep centre
The next best option is to outsource this process and send your inserts to a 3PL (3rd party logistics) or prep centre service that can pack these cards into your products on your behalf. Usually, there will be a per-unit fee for this process and so we would recommend trying the next option where possible.
Have your manufacturer include it at source
The best of both worlds is to include a product insert as part of your manufacturing process. Make sure you clearly communicate when confirming your quote with a supplier that you will need a small insert card included as part of the deal.
This is usually such a small part of the product and process that your manufacturer will agree to include the packing at no cost. The printing may cost a few cents per card, but this is also likely to be cheaper than any local printing source you might find.
Using this option saves you both the time of having to pack marketing materials in packaging yourself, but also saves a good chunk of the cost involved in outsourcing the process.
Are product inserts allowed on Amazon?
Ok, so you're sold on the idea of including Amazon product inserts, but you're concerned about what is and isn't allowed by Amazon. Let's make sure we're covered on that front.
What is Amazon's insert card policy?
Whilst Amazon's terms of service do not contain specific policy for Amazon sellers around insert cards, we can learn all we need to make good choices in this department by looking at closely related policy sections. The two key sections in relation to product inserts are those entitled "Ratings, Feedback, and Reviews" and "Circumventing the Sales Process".
Within these two categories, there are four potential violations of the terms of service that you need to avoid in your insert card strategy in order to steer clear of any Amazon sanctions.
Violation #1: Incentivizing reviews
The terms of service state that you must not:
"Pay for or offer an incentive (such as coupons or free products) in exchange for providing or removing feedback or reviews"
Simply put, your insert card must not include language that suggests you will reward customers for leaving a review. Examples of this could include:
"Leave a review and get a free product" or
"Leave a review and get a $5 gift card as a thank you"
Amazon has come under a lot of scrutiny over the validity of its reviews in recent years and as such is very hot on policing this behaviour.
Violation #2: Asking for only positive reviews
You can't ask for only positive reviews. Here's what the TOS states on asking for a positive review:
"Ask customers to write only positive reviews or ask them to remove or change a review"
Examples of review request language that might get you in hot water with Amazon on this front might include:
"Please leave a 5* review"
"Your 5* review really helps our small business"
You shouldn't mention 5* reviews or a positive review in any form.
Violation #3: Diverting unhappy customers
A tactic that became popular in recent years was including two options for customers on the same insert card. If they were happy with the purchase, customers were requested to leave a review. But, if they were unhappy were instead asked to contact customer services so their issue could be solved.
The intention of this strategy was to get out in front of negative reviews and solve the customer's issue before that soul-destroying 1* review went live. Amazon caught on to this practice and updated terms of service to include language stating you could not:
"Solicit reviews only from customers who had a positive experience"
Amazon recognized this was moving away from the unbiased reviews it is aiming for on the platform. As such, sellers should now avoid using this type of language that diverts only happy customers towards leaving a product review.
Violation #4: Sending customers away from Amazon
Amazon calls this Circumventing the Sales Process. Here's what the terms of service say on this matter:
"You may not attempt to circumvent the Amazon sales process or divert Amazon customers to another website. This means that you may not provide links or messages that prompt users to visit any external website or complete a transaction elsewhere."
Pretty straightforward. If you put discount codes on your insert that require the customer to buy through your own website this would be deemed as circumventing – or avoiding – the Amazon sales process and should therefore be avoided.
Important note: this does not mean you can't put the address of your own website on your packaging. Some people claim this and it's absurd – 99% of the products you buy on Amazon have a website address on the packaging. The spirit of this policy is that you can't direct customers to transact on your site with promotional offers. If your marketing message includes a discount code – make sure it's only redeemable via Amazon.
What are the risks if you violate Amazon's policy?
If you are found to be actively violating terms of service you will be at risk of sanctions from Amazon. These can include (but aren't limited to) cancellation of listings, suspension or forfeiture of payments, and removal of selling privileges.
Truth is, there will always be examples of brands willing to take the risk and violate these terms. Many will go unpunished for a period of time, but eventually, most will face some consequences. In 2021 news broke of over 3,000 accounts being suspended for tactics like those mentioned above. So be smart out there, follow the rules and play the long game to keep your account healthy and avoid the wrath of Amazon.
Please note: Amazon's terms of service are subject to change at any time. As such the information provided here should not be considered the final word and you are encouraged to check the terms of service for updates regularly.
How do I get more reviews with Amazon product inserts?
Alright, there are a lot of things we can't do… so what can we do in order to get that all-important positive review? Let's get into some strategy.
Ask directly
First up, pretty simple. Just outright ask for a review. Include a message on your insert card that lets the customer know you're super happy they bought from you and ask them to leave an honest review on Amazon. You can include a URL or instructions of how to leave a review if you want to, but most buyers will know how to leave a review and are unlikely to remember a URL or a long list of steps anyway.
Ask indirectly
The alternative route – one we've found to be far more effective on the whole – is to make review requests indirectly. This means using your insert card to start a conversation or offer value and then down the line bringing the subject of reviews into play.
Depending on the strategy you take – which we'll get into next – you'll have either provided great customer service, given the customer something of value, or generally left them with a positive experience of your brand.
You can then send automated follow up emails or review requests through tools like Feedback Whiz or Helium 10 that are completely separate from your insert-driven communication with your customer.
You'll still of course need to follow Amazon rules and not ask for a positive review, but there's every chance the customer's positive experience with your brand will greatly influence both the likelihood of them leaving a review and the quality of that review when you make the review request.
How do you create good Amazon product inserts?
If you want your insert card to produce results then you need a clearly defined strategy. But what strategy will help you generate more reviews, grow your list, and build your brand? Here are 3 keys to work on.
Define your goal
Is your goal building your list, getting reviews, or making more sales? The long-term goal is of course all three. But you can't achieve all three on your inserts alone… and as the old saying goes, if you try and chase two rabbits, you won't catch either.
So you instead need to define the specific objective when it comes to your product insert. I would highly recommend avoiding your objective being that of asking for a review. Amazon buyers are so familiar with the review process now – they know they can leave a review, and your request to leave one is probably the tenth they've had this week. To improve your review rate, you need to do something different.
Entice customers to take action
"Reviews are the lifeblood of our small family business, please consider leaving us one." Yawn! Your customers have heard it all before and if you're going to move them to action you need to give them a reason.
We've personally tried a range of different options to do this in recent times including signing up for a newsletter, registering a warranty, and entering a prize draw. But by a clear distance the best strategy we have used is offering a unnamed free gift to every customer. The customer then contacts us (you can do this via email or social media) and we deliver a free gift such as an eBook or cheap physical product.
In an attempt to optimize this side of our business we measured the numbers of our two most recent strategies and here's how they played out.
Strategy 1: Enter monthly prize draw for $50 store credit
Products sold: 2,000
Opt in page visits: 39
Opt ins: 15
Sales to opt in rate: 0.75%
Strategy 2: Claim a free gift
Products sold: 1,000
Opt in page visits: 106
Opt ins: 42
Sales to opt in rate: 4.2%
As you can see, the offer of a free gift has far out-performed our previous strategy by a significant margin leading to faster list growth and many benefits beyond.
Harness the power of simplicity
Once you've simplified the offer you're making to customers on your packaging inserts, its time to bring that simplicity to the insert itself. Rather than plastering your insert card with 17 different instructions like follow social media accounts, tag us in a post, and tell your friends about us, instead keep it simple.
All you need to include is your brand logo, a simple thank you message, and a clear call to action. If you're using the free gift strategy you can include something like 'claim your free gift' with instructions of where they should go to claim it.
What is the best Amazon product insert strategy?
In summary, we have found the best strategy for Amazon packaging inserts to be offering clear, simple instructions that encourage customers to take one solitary action to receive added value on their purchase.
With a good follow up system in place, this can then create opportunities for list and social media growth, more positive reviews, and ultimately more sales. Give some of these strategies a try, and if you'd like some more help, check out all our training & mentoring options here.